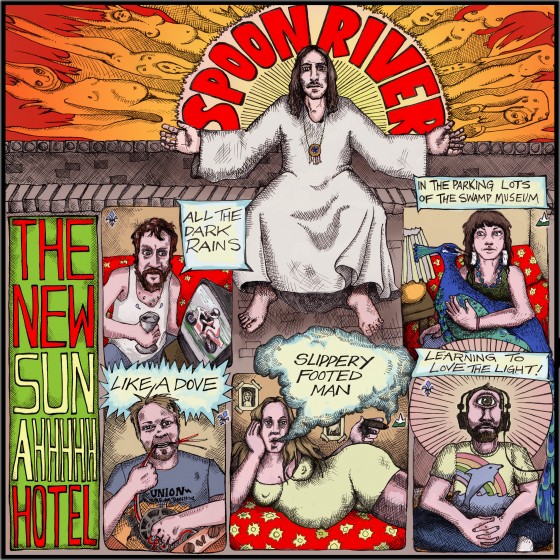 The New Sun AHHHHH Hotel
Released November 18, 2014
Spoon River is a band with a colourful past. In their newest record The New Sun AHHHHH Hotel, released November 18th on Tonic Records, they have offered up pulsing tributaries of sun drenched psychedelic rock & roll and scuffling garage boogie. Reminiscent of such offbeat musical trailblazers as The Growlers, The Royal Trux, King Tuff, Exile Era Stones, T-Rex and Memphis Garage heroes The Reigning Sound, Spoon River seamlessly fortify these influences with a heavy dose of their own wild and weaving brand, to invoke a strutting mixture of fear and exuberance, menace and acid-laced beauty.
In The New Sun AHHHHH Hotel they offer up what for many will be a revelatory first encounter. You'd be forgiven, however for having had difficulty keeping your eyes on them. The band, formed in 2008 in Montréal, Canada, is a large and shifting family scattered across the yawning landmass of the second largest country in the world. Founded by songwriter Tavis Eachan Triance after the sudden acrimonious split of cult heroes The Royal Mountain Band he and his wife, Rachel Horkenheimer, have been drifting ever since. What's more, their most recent offering mixed by Triance, and David Carswell of Destroyer and New Pornographers fame, was recorded between Montreal's Breakglass Recording Studios, home of Jace Lasek and Olga Goreas of the Besnard Lakes, and Vancouver's up and coming Afterlife and Rain City studios.
Spoon River are no strangers to living life unconventionally. Their addresses have changed repeatedly: from the teeming, artistically fertile streets of Montréal to tiny reserve towns on the North Pacific Ocean all the way through to the seaside jewel of glass and steel that is Vancouver, British Columbia. They have been flown in planes, toured on busses, hauled motorcycles over vast distances, and squeezed themselves into the cramped cabs of straggling pickup trucks. Opening for sword swallowers, slogging it out at veterans clubs and prairie roadhouses but also tearing it up in front of packed houses, most recently with San Francisco's new native sons The Wooden Shjips and Philadelphia's The War on Drugs. In pitch perfect doses of timelessness and vigor, The New Sun AHHHHH Hotel is set to wade from the rivers of the cosmos to capture your imagination and conquer your soul.