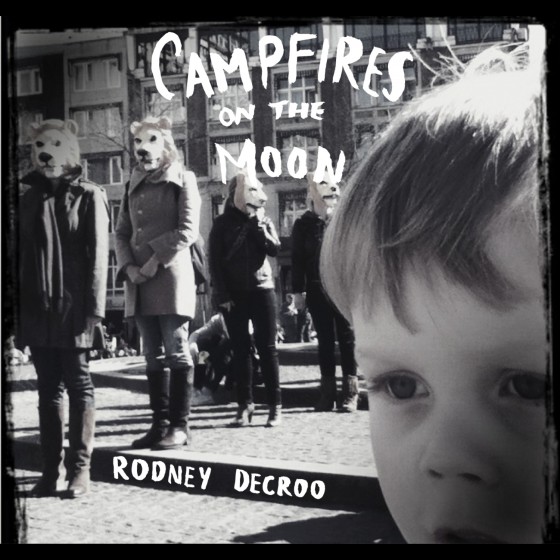 Campfires on the Moon
Released April 28, 2015
Burnt out by seven straight years of touring and recording five albums, Rodney DeCroo walked away from his band and his label after the release of 2010's Queen Mary Trash. The double album he left behind—urgent, brash, ragged, full of spleen—now looks like a roadmap pointing to the emotional reckoning that lay ahead.
Five years later the contrast is staggering. For his return to the studio as a singer-songwriter, DeCroo has produced something as beautiful on the surface as a dusk-painted reflecting pool, as shadowy below as his own tumultuous psyche. The gap between his inner and outer life has always been slender, but Campfires on the Moon—his debut on new label Tonic Records—gives us DeCroo at his most intimate.
Between then and now, DeCroo devoted the years to therapy and healing as he stepped up a lifelong battle with PTSD. He also threw himself into a more immediately personal trinity of projects, yielding a spoken word album (Allegheny), book of poetry (Allegheny, BC), and a touring stage play (Stupid Boy in an Ugly Town) that expanded both his critical and popular appeal.
Suitably refreshed, DeCroo was ready to follow Queen Mary Trash. With former Convictions bandmate and stage collaborator Mark Haney on double bass, and long time friend Ida Nilsen contributing piano and vocals—DeCroo had been quietly amassing material with Nilsen in mind—DeCroo returned to Brian Barr's Vancouver studio and produced a record that outstrips even 2008's Mockingbird Bible for its ferocious vulnerability.
The arrangements are fragile—three acoustic instruments and two voices; one glue, one honey—and so is the mood. A low, sonorous note brings Haney into the picture on perhaps the most upbeat of Campfire's songs, the lovely, painfully honest "Stupid Boy in an Ugly Town". If it's one of the more openly autobiographical moments on the album, DeCroo is less explicit elsewhere.
"Tear All Lovers Down" captivates with a strident (maybe even poppy!) piano hook, but "White Circles" draws us in with its subtler qualities, its words coming on like a transmission from the darkest hour of the wolf. The language on Campfires on the Moon is frequently cryptic, but meaning surfaces nonetheless. DeCroo is wrestling with regret, loss, aging, love, memory, death, art—always with his own ongoing recovery embedded in the background.
Gradually the album takes on an emotional force all its own, through its combination of quivering intimacy and DeCroo's greatest natural resource—his poetry. As its 10 songs draw to a close, Haney throws a little discordant shade into "Ashes after Fire", foreshadowing the envy that grips DeCroo as he visits some old friends at the Railway Club.
"They're doing well," he sighs, "their wellness never ends." But there's a deep irony at work. Breaking from a past in disarray, Campfires on the Moon strongly suggests that its author's own wellness has well and truly begun.