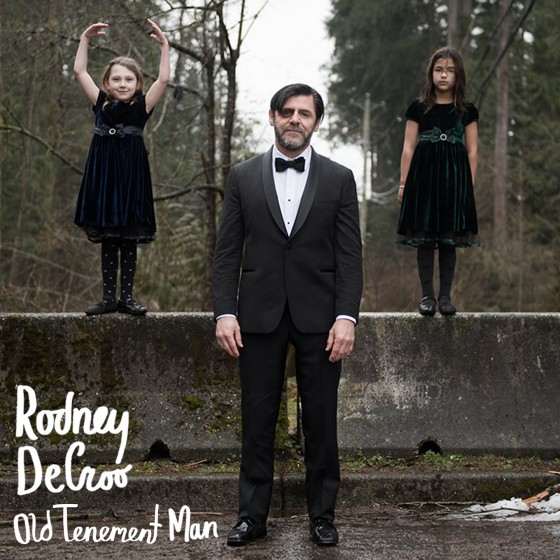 Old Tenement Man
Released May 5, 2017
After returning from a five-year sabbatical from music in 2015 with the intimate collection 'Campfires On The Moon', Vancouver singer/songwriter, poet and playwright Rodney DeCroo's musical evolution continues with his seventh full-length album, 'Old Tenement Man', a sprawling work of unflinching lyric-driven rock and roll, infused with the legacies of Lou Reed and Leonard Cohen.
Teaming up with producer by Lorrie Matheson (Art Bergmann, Rae Spoon) at his Calgary studio Arch Audio, DeCroo struck the perfect sonic balance through which to display the full range of his poetic gifts and a renewed commitment to reaching more ears.
The fully fleshed out arrangements on songs like "When It's Everything" and "Like Jacob When He Felt The Angel's Touch" leap out of the speakers with searing storytelling unlike anything DeCroo has achieved before on record, while Old Tenement Man's most harrowing moments, such as "Ten Thousand Feet Tall," and "The Barrel Has A Dark Eye," thrill with the precise control both DeCroo and Matheson deploy to build the drama.
The new album continues DeCroo's intense output since 2010, which saw him produce an acclaimed poetry collection—and accompanying spoken word album—drawn from his childhood in Western Pennsylvania. He also mounted a one-man theatre show that toured western Canada, all of which was an outgrowth of extensive therapy to cope with addiction and Post Traumatic Stress Disorder.
Although Rodney DeCroo's quest for inner peace remains ongoing, the immense strides he has made over the past half-dozen years has finally bore fruit on 'Old Tenement Man', an album that finally places him in the upper echelon of Canadian singer/songwriters. It is an album that reflects the times in which we live, and its themes will surely resonate long into the future.
"His powerful new album Old Tenement Man [ …] is a record of noisy peaks (the distortion -blazed "Jacob's Well")  and delicate valleys (the lovely acoustic exorcism "Little Hunger"). The album is important because it showcases DeCroo as someone who- like Neil Young and Lou Reed – is capable of reinventing himself sonically."
– Georgia Straight
"The album to make all sorts who didn't "get it" before figure it out. He sounds like he's having a blast and it's infectious."
– Vancouver Sun
"Once I'd heard Rodney DeCroo's forthcoming album, "Old Tenement Man," I absolutely could not get it out of my mind. […] This is a powerful set of songs, from a terrifically talented songwriter."
– Great Dark Wonder
"Rodney DeCroo is back!"
– Lethbridge Herald
"[DeCroo] turns up the volume on Old Tenement Man, with bracing results."
– FYI Music News
"Tenement is, to borrow a phrase, a brilliant record. It's a grit-caked, guts-stained guttural work that's so immediate, alive and honest you'll hear its heartbeat before you press play, but so timeless that you'd swear you could sing every line on first listen.It's astonishing, really, just how classic of a contemporary rock record it is."
– The YYScene
"Canadian creative powerhouse Rodney DeCroo is wowing with his latest album, Old Tenement Man."
– Canadian Beats
"DeCroo's the kind of musician who is unsettling in just the right way and he gets that vibe just right on his new album Old Tenement Man."
– Saskatoon Star Phoenix
"It is the perfect backdrop for DeCroo's chief, rare gift; he is an exquisite, literate, surreal, and rich lyricist."
– The Daily Gleaner
"Vancouver's DeCroo knows lots about creating vivid characters with complex stories, and getting them out in dramatic fashion. On his latest album, those songs burn with added intensity thanks to tightly wound but very catchy melodies. He and producer Lorrie Matheson have turned these into compelling tales no matter the darkness inside."
– Top100CanadianSingles (Bob Mersereau)
credits
Produced and mixed by LORRIE MATHESON (Arch Audio)
Mastered by HARRIS NEWMAN (Greymarket Mastering)RODNEY DECROO guitar, vocals
LORRIE MATHESON guitar, keyboards, bass
CHRIS DADGE drums
TIM LEACOCK electric guitar on In The Backrooms Of The Romance
JOE MCCAFFERY electric guitar on The Barrel Has a Dark EyeDedicated to the memory of Mark Evans.
Rest in peace, my friend.This project is funded in part by FACTOR, the Government of Canada and Canada's private radio broadcasters. / Ce projet est financé en partie par FACTOR, le gouvernement du Canada et les radiodiffuseurs privés du Canada.