February 4, 2016
Live, News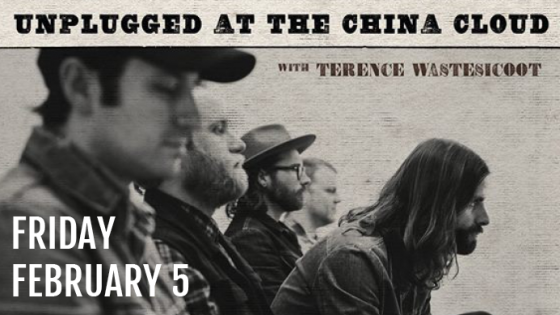 UNPLUGGED: Ben Rogers @ China Cloud FEB 5
FEB 5: Ben Rogers is holding a benefit show this Friday at the China Cloud for Elmer Easter.
"This show is being held in honour of our family member Elmer Easter who was badly burned in a house fire Oct. 31, 2015 in Brandon, Manitoba, and succumbed to his injuries on Nov. 4 at Winnipeg Health Science Centre. He was 20 years old. All proceeds go to the Easter family members whose house and belongings were destroyed by the blaze. Funds will also go toward purchasing a headstone to mark Elmer's resting place."
– Ben Rogers & Kristy Koopmann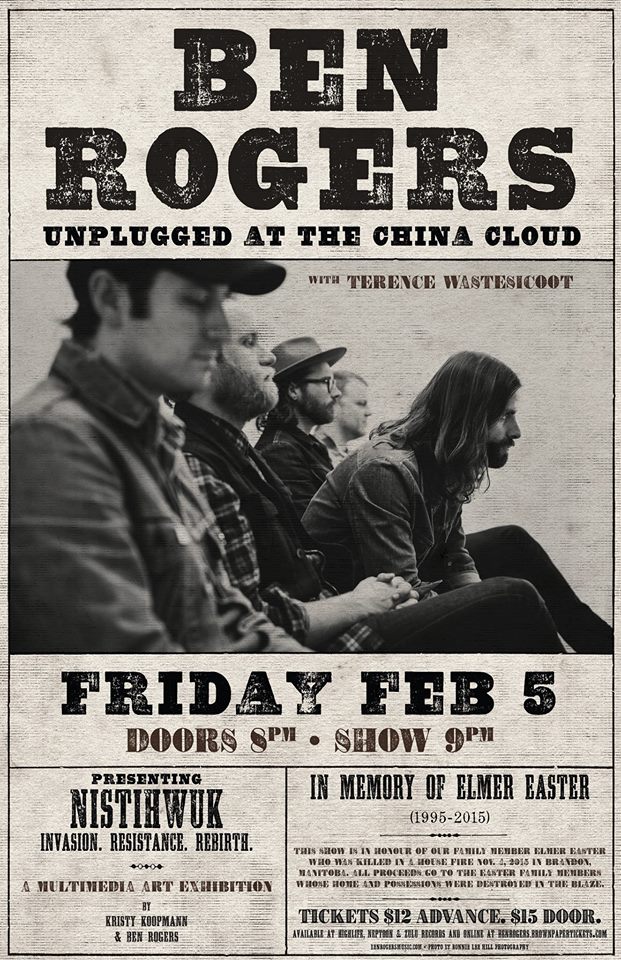 Details and tickets: here
Ben and his 4-piece band will be playing acoustic renditions of songs from 'The Bloodred Yonder' and 'Lost Stories: Volume One'.
'The Bloodred Yonder' in the press:
"The Bloodred Yonder operates as a loving tribute to the golden age of country while bringing something new to the table. Musically, Rogers and band prove nothing if not flexible, swinging easily from bourbon-hazed ballads to gun-smoke folk to paisley-dipped Americana." – Mike Usinger, The Georgia Straight

"In the world of The Bloodred Yonder, there is plenty of rich, sinister, and sometimes hilarious scenery to escape to. You can run with the outlaws for a while."  – Sarah Bauer, Beatroute Magazine

"VANCOUVER'S Ben Rogers can probably quit his day job now. With The Bloodred Yonder, he has created a kind of independent roots-rock mini-masterpiece that not only makes pretenders in the genre sound even lamer, but also sets the bar for future artists to strive to attain. It's that good."- Jeff Monk, Winnipeg Free Press

"Vancouver roots singer-songwriter Ben Rogers is quickly proving himself as one of the most accomplished figures on the West Coast's indie scene. […] Get ready for plenty of shiver-inducing moments thanks to an album that taps into a timeless essence usually found in the voices of more seasoned veterans."  – Francois Marchand, Vancouver Sun

"Rogers is there, riding shotgun, his lyrics loaded with acute observations, sage wisdom and just plain old poetry, in fact some of the best words we've heard this year." – Blabber 'n' Smoke

"Whether on foot-stomping numbers like River or sentimental breakup songs like Goodbye Rosa Lee, you believe everything you're hearing and, as with the best anti-heroes, you can't help but live vicariously through his actions." – Songwriting Magazine

" I find music like Ben Rogers' Bloodred Yonder moving in its heartfelt bleakness, beautifully damaged.  It's heart may be compromised and profoundly flawed, but Rogers' music is genuine." – Routes and Branches