January 6, 2016
Live, News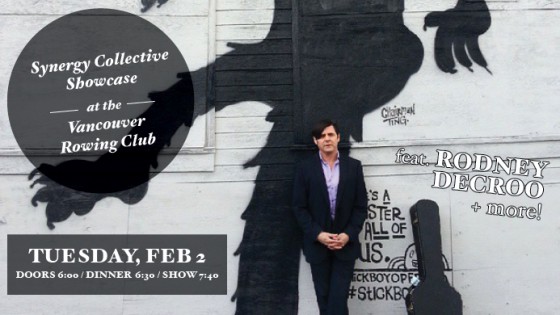 Rodney DeCroo @ Synergy Collective Showcase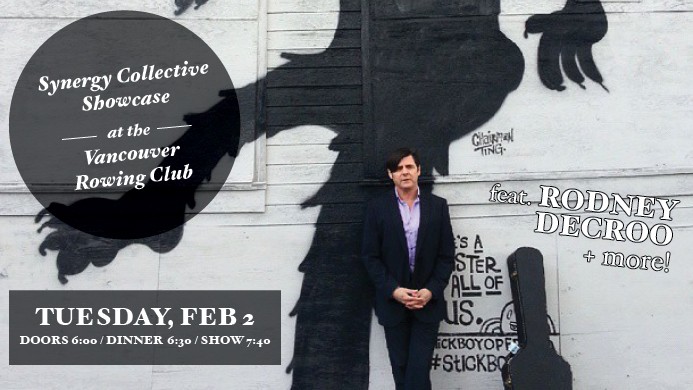 Rodney DeCroo will be featured in February's Synergy Collective Showcase, which features sing-songwriters in the round at the Vancouver Rowing Club. Catch new songs from Rodney on Tuesday, February 2nd!
About the Synergy Collective:
On the first Tuesday of each month the collective features 3 singer-songwriters and showcases 3 collective members. Dinner is served and all proceeds go towards a new charity each month.
On February 2nd, proceeds will be donated to Child Haven International.
Schedule:
6:00pm Doors
6:30pm – 7:30pm Dinner
7:40pm-10:00pm Show
This showcase will feature: Rodney DeCroo, Norman Foote, Geoff Gibbons and Synergy Collective regulars Yvonne McSkimming, Beverley Elliott and Mark James Fortin.
Tickets:
Ticket donations are $25 for adults, $15 for seniors/students and children under 12 free.
To purchase tickets, contact Yvonne at ymuzak@telus.net or yvonne@synergycollective.ca or 604 726 5277 for more information and to reserve your seats.
Additional information: here