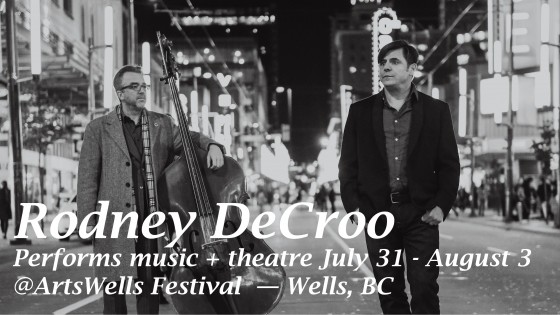 Rodney DeCroo at ArtsWells
UPDATE (July 28): Unfortunately, Rodney DeCroo's performances at ArtsWells have been cancelled.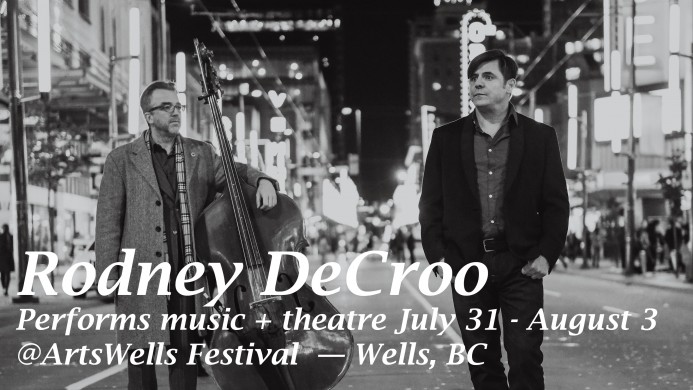 This July 31 – August 3, ArtsWells Festival of All Things Art hosts a slew of great BC, Canadian and international artists in Wells, BC. The festival presents music, theatre, art, literature, film, dance + more!
This year Rodney DeCroo will be performing both a concert of his music from his recent release Campfires on the Moon as well as his acclaimed theatre piece, Stupid Boy in an Ugly Town. 
Set times + dates TBA.
About Stupid Boy in an Ugly Town
Directed by: Jane Heyman
Stupid Boy in an Ugly Town explores the stories of writer Rodney DeCroo's memories of growing up in a small town and deals with themes of addiction, P.T.S.D., the intergenerational impact of war on families and individuals, poverty, family, violence, abuse and neglect. The stories are performed through spoken word (DeCroo) and music (DeCroo on guitar, Mark Haney on double bass).
The narrative's structure is not liner. Its movement has its own circular, seemingly fractured, logic, like memory itself and responds to the multiple geographies of protagonist DeCroo's childhood, adolescence and adulthood.
The performance is a reclamation project of sorts, using art to explore but also rewrite histories, transform identities and transcend time. Stupid Boy in an Ugly Town exists as a transformative force that creates meaning and dignity through the cathartic and poetic resolution to the struggles found in the stories.  Through the way the story is told, layer upon layer through the assemblage of poetry and music, the dialogue between these mediums in this performance results in a quietly innovative form of transformative theatre. It is a defiant beauty.
"When that performance is over, you will have been moved to tears, amazed that something so painful could be made into an experience so profoundly uplifting. The Allegheny that snakes through the coal town of Harmarville is a "filthy river", but from it has come something so beautiful and pure that the trauma might have been, on some abstract level, almost worth it. Almost."
– Georgia Straight
"DeCroo is a powerful and intense performer with impressive stage presence, and his life so far, recalled – even re-lived – seriously is well worth our attention."
– Plank Magazine
"DeCroo weaves his many talents together to share the moving tale of his life so far…this hybrid show is part music, part poetry and all entertaining."
– Winnipeg Free Press
"A first-rate poet, and a poet's gift for language runs through this show."
– CBC Radio Winnipeg
"Brutally honest and beautifully observed."
– Vancouver Sun
"Stupid Boy in an Ugly Town is incredible."
– CBC North by Northwest
"Gripping, compelling, genuine."
– CBC music