October 25, 2021
News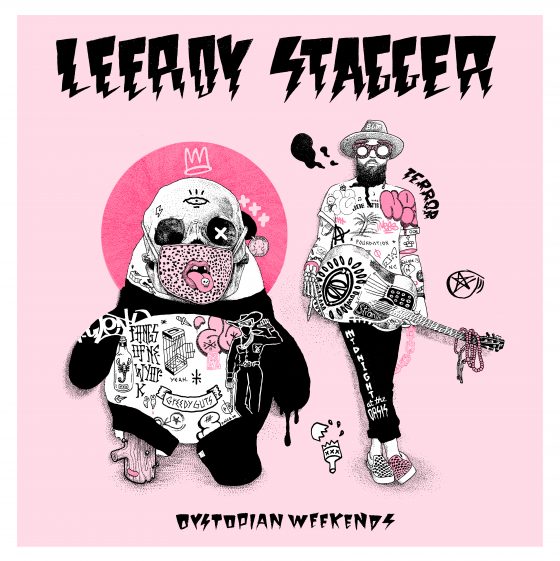 Leeroy Stagger's New Album 'Dystopian Weekends' Out Now!
Looking for new music to fuel your week? Check out Leeroy Stagger's newest album 'Dystopian Weekends'. Listen to the album on Spotify, or pick up your own copy here!
A few words from Leeroy Stagger about Dystopian Weekends:
Recorded at the famous Afterlife Studios in Vancouver accidentally during the kickoff of a global pandemic, Dystopian Weekends is the serum of truth with a slice of light and darkness that we all need right now.
I'm very proud of the last couple records I've made but had tried very hard to reach as many people as possible with the production of those records, this record I made for myself and instead of referencing what was on the radio at the time, I went back to vintage Bob Dylan records and records like 421 Ocean Blvd as well as The Silver-Tongued Devil to plant some production seeds. I wanted the songs to speak for themselves and definitely followed some more traditional guideposts.
After 4 years of relentless touring, my band, The Rebeltone Sound needed a break. I decided to go to Vancouver and put together a group of friends that I've always wanted to record with. I'd always wanted to work with John Raham (Frazey Ford, Destroyer) and it happened that everybody was available that week. Little did we know that a global pandemic was sitting at our doorstep, it all started going down while we were recording. We were getting all these updates from our phones whilst we're sitting in this big black bunker of a studio while our phones are exploding with all this terrible news and we're sitting there trying to make a record.
I think you can feel the nervous energy in the playing and the vocal delivery which actually makes for a beautiful record.
Songs of environmental degradation, greedy land developers inspired by a character Buffy Sainte-Marie had told me about, Christmas songs about junkies and alcoholics, songs about race wars in America, modern-day dustbowl songs of fleeing political ideology, break up songs and songs honouring my dead friends. It all seems a bit much on paper, but I think I've honoured it all in a very beautiful, relevant and artistic way.
Recorded March 2020 at Afterlife Studios, Vancouver, BC by John Raham
Mixed by Leeroy Stagger at the Rebeltone Sound System, Victoria BC
Mastered by John Greenham Mastering, Los Angeles, California
Produced by Leeroy Stagger with John Raham
Mandolin, Banjo, Vocals – Ryland Moranz
Vocals – Jody Pec

Cover Art – Peter Ricq
Layout – Ryland Moranz
Management – Kate Wattie, Tonic Management

All songs written by Leeroy Stagger

Greedy Guts is inspired by Buffy Sainte Marie No No Keshagesh
Christmas Carol is for Lou Reed
Ventura is for Neal Casal

What a time to be alive! Take care of yourself and take care of each other