April 9, 2015
Live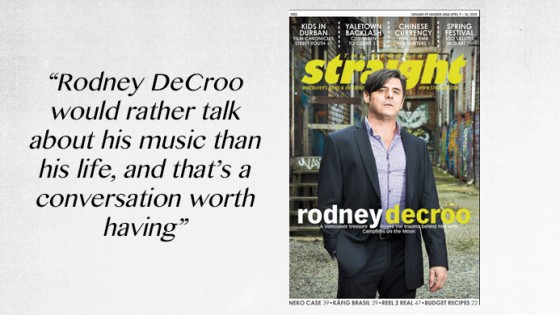 Georgia Straight feature: Rodney DeCroo
Read Rodney DeCroo's interview with The Georgia Straight's Adrian Mack. It covers his new album Campfires on the Moon, his collaborations, his release party at the Fox Cabaret next Thursday, April 16, and you guessed it- his life.
Read the featured article: HERE
Article by Adrian Mack. Photography by Rebecca Blissett. And what fine words + photography!
ALBUM RELEASE PARTY:
Thursday April 16 – Fox Cabatet (Vancouver, BC) – Doors 8pm / Show 9pm
Tickets: online here, Highlife Records, Red Cat Records
Facebook event: here
LISTEN:
If you haven't had a listen to featured songs from Campfires on the Moon, listen here:
PURCHASE:
Pre-Order a CD of Campfires on the Moon via Tonic Records
Buy a digital download of Campfires on the Moon via iTunes