September 21, 2017
Live, News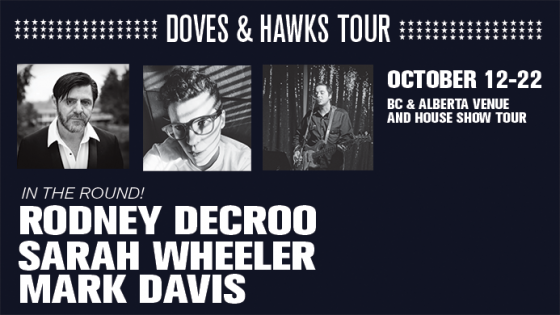 Doves & Hawks Tour w/ Rodney DeCroo this October
The Doves & Hawks Tour features singer-songwriters Rodney DeCroo,  Sarah Wheeler (Vancouver), and Mark Davis (Edmonton) in the round through venues and house shows in BC and Alberta this October.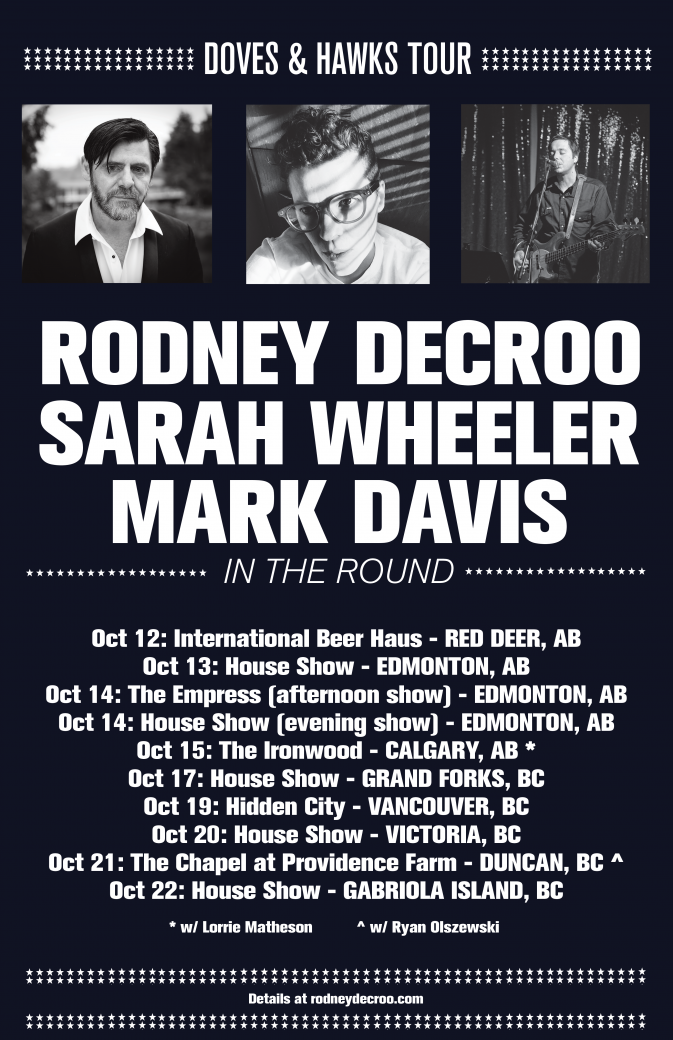 TOUR DATES:
Thursday, Oct 12: International Beer Haus – RED DEER, AB
5008 48 Street
w/ host Curtis Phagoo
Doors 7 / Show 8 / $10
Friday, Oct 13: House show – EDMONTON, AB
Details TBA
Saturday, Oct 14: The Empress (afternoon show) – EDMONTON, AB
9912 82 Ave NW
No cover
Show 4pm
Saturday, Oct 14: House show (evening show) – EDMONTON, AB
Dave and Leona's place / 2528-46 A Street
Doors 7 / Show 8 / $20
Sunday, Oct 15: The Ironwood – CALGARY, AB
w/ Lorrie Matheson
1229 9 Ave SE
Doors 7 / Show 8
Tuesday, Oct 17: House show – GRAND FORKS, BC
Details TBA
Thursday, Oct 19: Hidden City – VANCOUVER, BC
651 East Hastings
Doors 8 / Show 9 / $10
Friday, Oct 20: House show @ Robins Nest Recording – VICTORIA, BC
2745 Fifth Street
Show 8pm / $10
Saturday, Oct 21: The Chapel at Providence Farm – DUNCAN, BC
w/ Ryan Olszewski
Doors 7 / Show 7:30 / $20
Tickets available at Duncan Music, Providence Farm General Store, and online here
Sunday, Oct 22: House show – GABRIOLA ISLAND, BC
Birdsong House Concerts / 1485 Broadview Road
Doors 7 / Show 7:30 / Suggested donation $15
Info: e-mail green.brian.s@gmail.com
ABOUT THE ARTISTS:
RODNEY DECROO (Vancouver)
After returning from a five-year sabbatical from music in 2015 with the intimate collection Campfires On The Moon, Vancouver singer/songwriter, poet and playwright Rodney DeCroo's musical evolution continues with his seventh full-length album, Old Tenement Man, a sprawling work of unflinching lyric-driven rock and roll, infused with the legacies of Lou Reed and Leonard Cohen.
"Tenement is, to borrow a phrase, a brilliant record. It's a grit-caked, guts-stained guttural work that's so immediate, alive and honest you'll hear its heartbeat before you press play, but so timeless that you'd swear you could sing every line on first listen.It's astonishing, really, just how classic of a contemporary rock record it is."
– The YYScene
SARAH WHEELER (Vancouver)
Sarah Wheeler has an "effortlessly big voice which falls somewhere between Chrissie Hynde and Neko Case." – Adrian Mack, The Georgia Straight.
Sarah Wheeler is a dyed-in-the-wool singer songwriter. With the upcoming release of her fourth album, Sarah shows the mark of over twenty five years of songwriting. Wheeler's musical heritage was handed down to her through her grandfather's pioneering efforts as a jazz pianist in local Vancouver clubs during the 50's and 60's. In that period he backed jazz greats including Nat King Cole and Sammy Davis Jr. Although she has enjoyed collaborating with other musicians, lending her vocals to recordings such as "A Small Wonder" by A.C. Newman of the New Pornographers, and sharing the stage with artist including Dan Mangan and Tanya Tagaq, this Vancouver based roots artist has consistently remained focused on writing and performing her own music.
Stuart Derdeyn from The Province reviewed Wheeler's work by saying "this is a very solid effort from an artist who has always had it but really tapped the right points and doesn't miss here"…she gets good Lucinda Williams-esque steam chugging along."
"One of Vancouver's punchiest indie singers." Fish Griwkowsky, Edmonton Sun.
MARK DAVIS (Edmonton)
Mark Davis will soon release his twelfth full-length recording. His last solo album,Eliminate the Toxins was nominated for the Polaris Music Prize and spent several months on the National Campus and Community Radio charts. Mark's previous release, Mistakes I Meant to Make, was called a "tour de force" (Penguin Eggs, Exclaim), "the roots release of the year" (Eye) and "stunning" (Uncut), and prompted radiofreecanuckistan to call Mark "one of the most under-rated songwriters in the the world." Mark also leads heavy wave duo, Concealer on bass and vocals, and has guided the experimental country band, Old Reliable through 25 years. Mark has shared stages with the likes of Guy Clark, Alejandro Escovedo, K'naan, Wilson Pickett, Ray Condo, The Sadies and Richard Buckner.