October 10, 2015
Live, News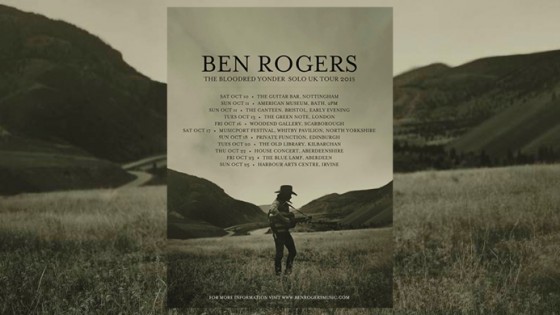 Ben Rogers heads to the UK!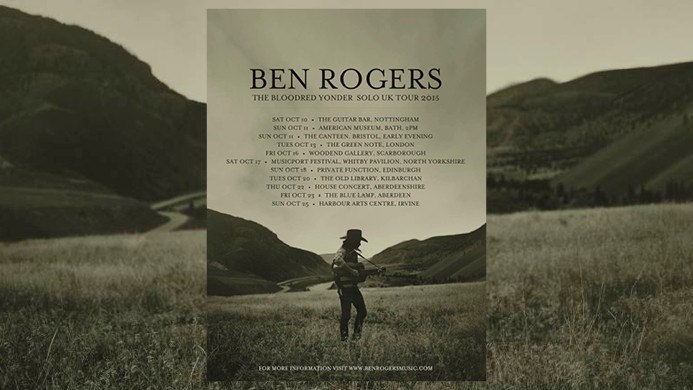 Ben Rogers is heading to the UK to tour his recent release The Bloodred Yonder. Tell your friends.  Tell your friends of friends too.
Here's where to catch Ben Rogers:
Oct 10: The Guitar Bar – Nottingham, UK
Oct 11: American Museum – Bath, UK (afternoon set)
Oct 11: The Canteen – Bristol, UK
Oct 13: The Green Note – London, UK
Oct 16: Woodend Gallery – Scarborough, UK
Oct 17: Musicport Festival @ Whitby Pavilion – North Yorkshire, UK
Oct 18: Private function – Edinburgh, UK
Oct 20: The Old Library – Kilbarchan, UK
Oct 22: House Concert – Strathdon, Aberdeenshire, UK
Oct 23: The Blue Lamp – Aberdeen, UK
Oct 24: The Cat Strand – New Galloway, UK
Oct 25: Harbour Arts Centre – Irvine, UK
Listen to The Bloodred Yonder here. 
The Press on The Bloodred Yonder:
"The Bloodred Yonder operates as a loving tribute to the golden age of country while bringing something new to the table. Musically, Rogers and band prove nothing if not flexible, swinging easily from bourbon-hazed ballads to gun-smoke folk to paisley-dipped Americana."
– Mike Usinger, The Georgia Straight
"In the world of The Bloodred Yonder, there is plenty of rich, sinister, and sometimes hilarious scenery to escape to. You can run with the outlaws for a while."
– Sarah Bauer, Beatroute Magazine
"Vancouver roots singer-songwriter Ben Rogers is quickly proving himself as one of the most accomplished figures on the West Coast's indie scene. […] Get ready for plenty of shiver-inducing moments thanks to an album that taps into a timeless essence usually found in the voices of more seasoned veterans."
– Francois Marchand, Vancouver Sun