March 29, 2016
Live, News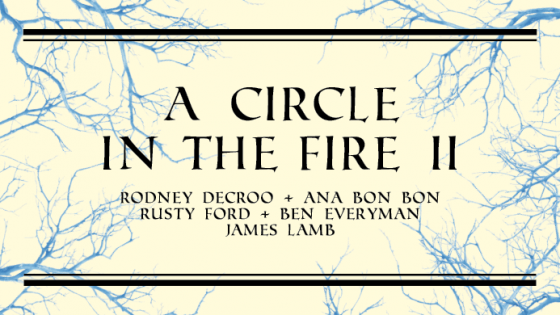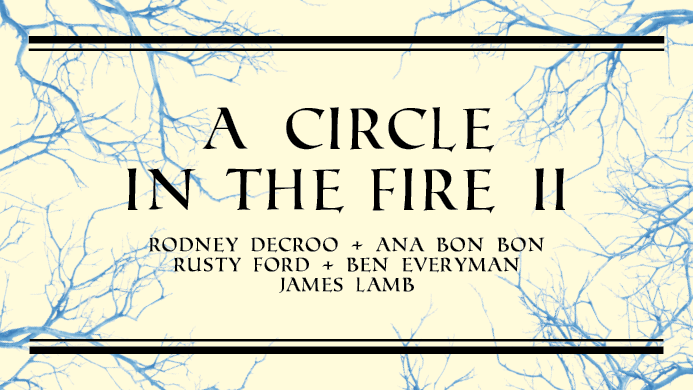 APR 7: A Circle in the Fire II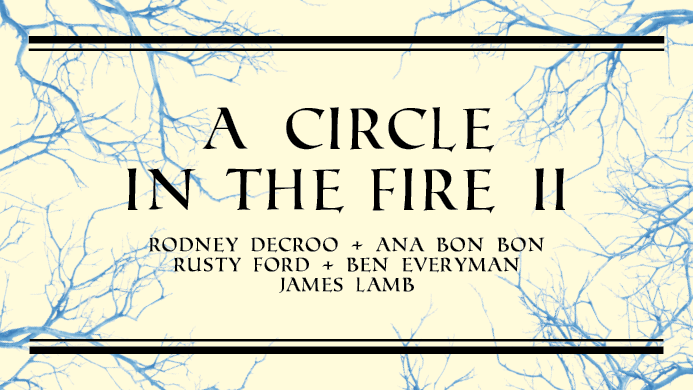 The second monthly instalment of 'A Circle in the Fire' happens next Thursday at The Heatley (696 Hastings, corner of Heatley) in East Vancouver.
Catch this songwriters-in-the-round night with host (+ performer) Rodney DeCroo, Ana Bon Bon, Rusty Ford, Ben Everyman and James Lamb.
No cover. Music starts at 8pm.
Facebook event: here
About the artists:
Rodney DeCroo
Rodney DeCroo is a songwriter, poet and playwright. He has released 6 full-length albums, an album of poetry set to music (Allegheny), a book of poetry (Allegheny, BC) and a theatre production (Stupid Boy in an Ugly Town) that received critical acclaim at several Canadian fringe and writers festivals. His recent album Campfires on the Moon has produced something as beautiful on the surface as a dusk-painted reflecting pool, as shadowy below as his own tumultuous psyche. DeCroo is wrestling with regret, loss, aging, love, memory, death, art—always with his own ongoing recovery embedded in the background. DeCroo's album and performances draw upon his greatest natural resource—his poetry.
rodneydecroo.com
Ana Bon-Bon
"Countryfried and mountain-whipped" Canadian Blues Cabaret chanteuse, accordionist, genre-bending songwriter, and musical hostess Ana Bon-Bon squeezes savoury rhythms from her bump'n'grind bellows box to bring joy and comfort to those in yearning. This "Walkin', Talkin' Party" is back in town with her seasoned, sultry vocals and a hearty western appetite after five years in London UK…Bon-Bon delivers an intoxicating dose of jump blues, western swing, cabaret, spirituals, and double-entendre all wrapped up in one big wood-choppin' gal!
anabonbon.com
Rusty Ford
The bastard middle-aged lovechild of Porter Wagoner and Wanda Jackson, Rusty wants to bring country music a bouquet of flowers and give her a hickey.
rustyfordmusic.com
Ben Everyman
Ben Everyman's music staggers across folk, country, and blues, it hints of satire and parody, glued together by an unquenchable desire to spit in the eyes of convention. He often performs as a one-and-a-half-man-band, accompanying himself on drums and harmonica, lapsing into the occasional tirade or impromptu poetry. It's nothing but the truth, and sometimes it happens to be funny.
beneveryman.com
James Lamb
James is a storyteller with unconventional compositions and lyrics that explore the most contemporary issues in our Canadian culture, often originating in personal experiences with humanity…He is a compelling performer in show, his sharp observations delivered in a deceptively gentle manner, his voice an instrument of pure delight. His view of the world reflects his generations and I can only say the future is in good hands.
jameslambmusic.com